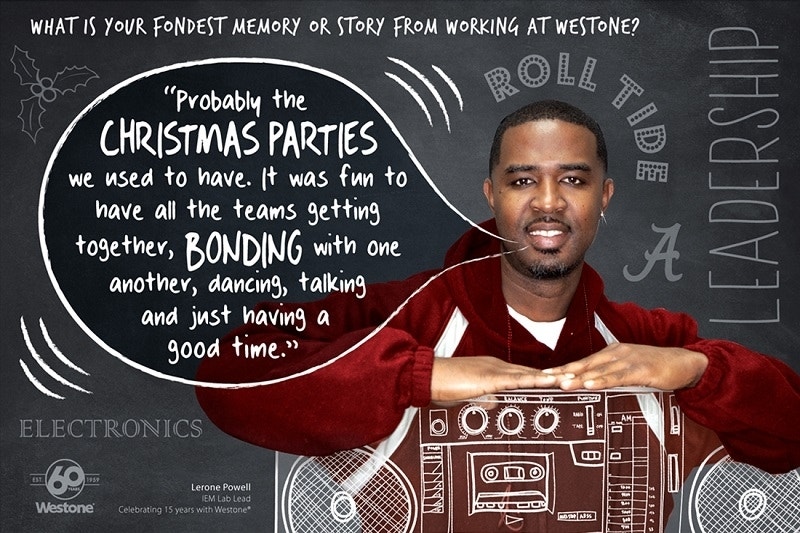 With our company consisting of four individual divisions or "branches" (Hearing Healthcare, Audio, Hearing Protection and Military), and each of those branches having their own departments within them, Westone is always on the lookout for employees that demonstrate strong leadership capabilities. With so many different departments and divisions within Westone requiring some sort of lead or manager, we find ourselves constantly on the lookout for individuals who show a knack for leading their coworkers to put into these lead positions. While some of these roles are definitely harder to fill than others, one specific position that we haven't had to worry about in years is the Lead of our custom In-Ear Monitor (IEM) lab, as this position has been locked down for quite some time by one of Westone's finest leaders: Lerone Powell.
We've been lucky enough to have Lerone as an outstanding member of the Westone family for the past 15 years, and his impact on the company has been immediately felt from day one. A US Army veteran, leadership seems to just come naturally to Lerone, so it shouldn't come as much of a surprise to anyone who knows him that he has thrived in his current role as the Lead of our IEM lab. Lerone's exceptional people skills have also played a large part in that ability to thrive here, as he's formed close relationships with practically everyone he's worked with. As a matter of fact, Lerone's formed so many relationships over the years here, that his fellow coworkers quickly became his favorite part of working at Westone!
"My favorite part is pretty much just working with the people here." Lerone noted. "Just seeing new people come in and people grow. I've been leading Lab 3 (IEM lab) for about five years now and I definitely enjoy seeing that growth in there."
As chance would have it, Lerone's interest in electronics is what would ultimately lead him to us, after his wife - who was working at the Colorado Springs Gazette at the time - just so happened to see an ad in the newspaper for an open "Electronic Technician" position at some company named Westone. Already out of the Army and finishing up an electronics degree in Colorado Springs, the position seemed like a natural fit for Lerone, so he applied and the rest is history. Fast forward 15 years to today and Lerone has become an unquestioned master at building Westone's custom in-ear monitors. As a matter of fact, regardless of the specific IEM model it may be, if you've ordered a set of custom IEMs from Westone within the past five years, there's probably about a 99.99% chance that Lerone had something to do with putting those IEMs together and getting them shipped out to you!
Now finding himself as one of the seasoned veterans of Westone after logging 15 years with us, Lerone has not only seen a lot of growth within some of his coworkers, but also the business itself as a whole.
"I wouldn't say so much our marketing strategy specifically, but just our website designs or updates, dealing with social media and just being able to market our business without purely relying on word of mouth." Lerone answered when asked what the biggest change is that he's witnessed take place during his time with Westone. "That's a huge change because usually in the past, Westone was just going off of word of mouth. A couple tradeshows here and there, but now we just have videos and different, better ways of getting the word out."
While noting that he does miss the now fabled (and possibly a little raucous) company parties of Christmases past, Lerone has primarily seen all the changes taking place at Westone over the past 15 years as being positive if not necessary for the company to continue its growth.
A lot has personally changed with Lerone since he first moved to Colorado Springs more than a decade ago, however one thing that hasn't changed is his love for sports. A native of Shorter, Alabama, you don't have to be around Lerone for too long before you'll hear the words "roll" and "tide" inevitably come out of his mouth. These days however, Lerone has gladly traded in the old cleats from his own playing days for a whistle and clipboard, as today he prefers coaching to playing which has without a doubt become his favorite hobby outside of work: "I love coaching, and actually I'm coaching my son's baseball team right now, but also football, basketball…I just love coaching!" Lerone happily shared.
Despite numerous changes to our Audio team during his time with us, whether it be changes to our product offering, changes in staff or even a change of offices, Lerone has remained a constant, dependable leader that the Audio team can always count on to get the job done. We're pretty sure he's even missed a Crimson Tide football game or two in order to ensure that his team remains properly on schedule, so we certainly can't deny his dedication to the company! Lerone, from all of us here at Westone: THANK YOU!